Annnnnnd we have Dan Humphrey Penn Badgley back on TV as the lead character of YOU. If you've been away from the Internet since Christmas, let me enlighten you with this thrilling rom-com that captured everybody's attention and hearts. Oh and just prepare yourself for 10 episodes of absurdity. A must watch absurdity.
What You are is about
Bookstore manager crosses paths with an aspiring writer
Perfect love story isn't it?! Imagine this happening to you, walking in a bookstore in uptown NYC and walked out with a date. Ooh la la!
UNTIL.
He wants to be her perfect guy and he won't stop at nothing.
Okay… err.. sure.. everyone wants to be the perfect partner.
Using social media, he collects intimate details of her and looks out for her and obsessing over her, watching her every move and quietly removes anyone or anything he deems toxic in her life.
This escalated quickly. Omfg, this is a creepy version of a romcom!! Wtf wtf.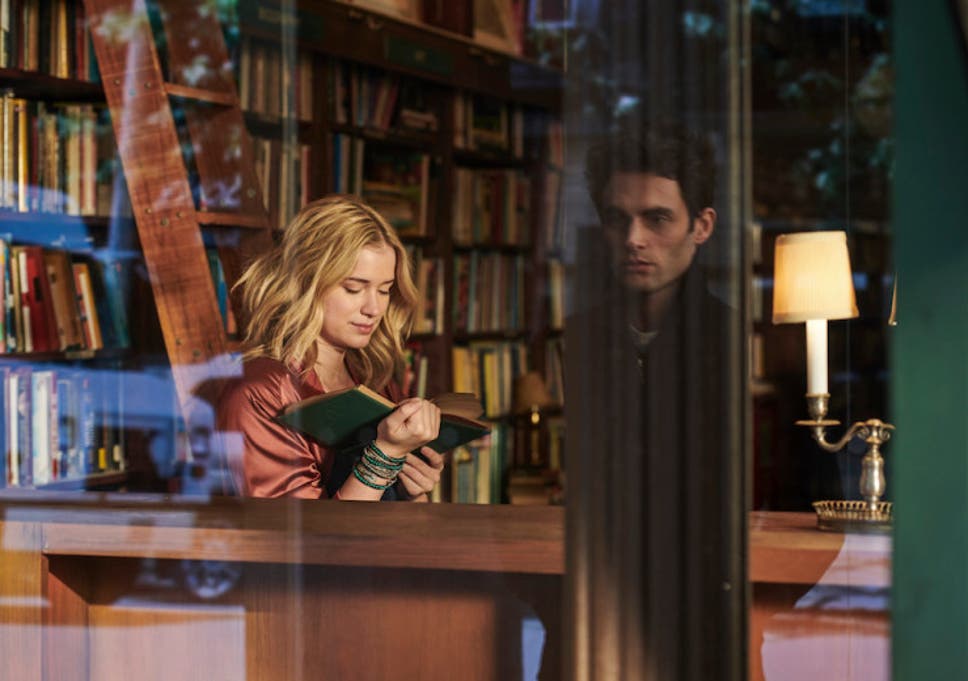 And here are reasons to like You
The dangers of social media
Meet someone new, conversation had to eventually come to an end, goes on social media and looks up this person, wonders who the girl/boy in his/her photo posted 4 months ago is.. is he/she taken? a sibling? or a relative?
Does this sound familiar? I didn't realize social media stalking is so creepy until I watched it on You. And one thing I've learned, people paint a life that they want to show to the world but in fact, everyone has their own insecurities and troubles. Boys and girls, just be careful of what you put out there.
Point is, Joe is nuts.
"Your online life isn't real, it's a collage" – Joe
Alright, go deactivate your Facebook account or set your Instagram account to private, save yourself!
Choose the right friends for you
It's important to find the right support system, especially in New York and when you're an aspiring writer.
Beck manages to drag her friends to a bar (read: drag, I believe if you're my true friend, I wouldn't have to draaaaaaag you) and having a shot to boost her confidence, she started reading her poems at an open mic. Her friends definitely don't look supportive.
Maybe I'm wrong but Annika and Lynn don't seem to be greatest friends. And Peach, well, you know Peach is Beck's best friend for a whole different reason, she totally sees Beck as more than a best friend.
*whispers Yes, Peach is just like Joe, she's obsessed with Beck. Though not as creepy.
Oh and letting your drunk friend take the subway home ALONE? Seriously, you call yourselves friends? Pft, shame on you!
Your childhood matters
Clearly Joe had a traumatizing childhood. Not much was revealed, only brief flashbacks but it's enough for us to know that he wasn't born crazy, he was molded into what he is now all thanks to Mr Mooney, you'll know who he is once you watch the show 😉
I really can't imagine being locked in the glass cage. How can anyone not go crazy?
"The most valuable things in life are usually the most helpless." – Joe
At least Joe tried his best to make the cage as comfortable as possible for Beck. Maybe one brownie point for that? Ok what no, I'm going nuts too. No brownie points what am I talking about.
Don't cheat
My boss always tells me that if I can't predict the results, look back at our data and analyze it from there. So my dear Beck, you did your research a little too late, asking Joe about Candace towards the end of the season.
One and only past data we've got:
Candace, cheated on Joe with a man named Elijah and he was pushed off the building omg. Elijah isn't the smartest too, a guy found out his girlfriend cheated on him with YOU, get off the roof!
Next data:
Beck. Hah sleeping with your therapist? C'mon girl. Consequences of cheating – get yourself killed and your therapist got framed for your murder. Didn't see that coming huh? Sigh.
This is insane.
Joe, just get over it and move on. Curse her, drink and bitch about her but murder is seriously another level of being in a troubled relationship geez!
"Some people deserve to die" – Mr Mooney
Not literally!!
Nothing is realistic, so this makes me feel a little better
Not owning curtains, really? Oh wait. Is that normal in Manhattan? Girl, don't have sex or masturbate without any curtains at least, that's just disturbing.
Breaking into Beck's apartment.. One thing's for sure, I wouldn't notice if one of my panties is missing but the point here is, is it that easy to break into an apartment?
No one looking for Benji? And getting away with burning his body? This isn't exactly believable.. And to get away with murder? I'm feeling very unsafe rn.
The glass cage. No one is allowed to enter the basement. Hence, Benji was trapped there and eventually gone mad (duh, it's a freaking glass cage). That's not the worst, he died there ew. I just.. now I'm afraid to enter bookstores in Manhattan.
And so many more.
I'm not sure whether this is realistic or not but Joe is extremely smart. He gets away with anything even when he knows he got caught. I am a peanut in comparison.
So, just
Be careful with who you flirt with. Oh and if you don't own curtains, get them now.
I've never really watched a thriller like this, it's usually just short YouTube videos or happy romcom (legit romcom) movies or sad, touching movies with the main character dying so this is really a breath of fresh air AND I didn't expect it to be so good. Definitely can't wait for season 2 now! Really sad they won't be filming in NYC, Joe will be heading to LA. Okay, one less stalker in NYC phew.
Have you watched YOU? Which is your favorite scene or episode?
Tags:
netflix
,
tv show