October is here and I realize I'm turning twenty five so soon. It's been 6 years since I was a teen and oh my, I can't believe it's been so long!
Growing up as a teen in the 00's, there were so many awesome movies that until today, in 2018, I watch it again and again. If you grew up in the 00's like me, you'd totally understand this post. More than anybody else. If not, just watch these movies and we'll be on the same page 😉 I can remember saving as much money as possible to get my hands on the DVDs, swooning over boys like Chad Michael Murray, re-watching them because they're just too awesome. Looking at this list that I made, I can't believe it's been more than 10 years ago. Anyway, here are my favorites (:
A Cinderella Story (2004)
A modern day Cinderella story, it's about two pen pals – Hilary Duff and Chad Michael Murray – who plans to meet at their school's Halloween dance. Whenever I watch this movie, seeing how big computers are back in 2004 makes me laugh. I think one of the main reasons I love this movie is because I absolutely love Hilary Duff back in the 2000's. I still love her now but I was a much bigger fan back then. C'mon tell me who doesn't love Lizzie McGuire.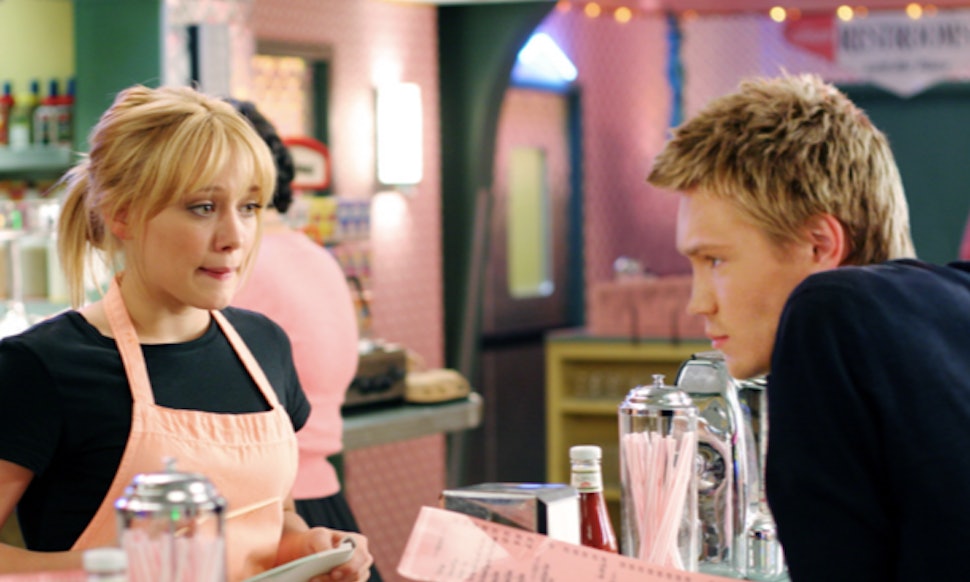 Sam and Austin's love story is so cute but unrealistic. Who knows, maybe love stories like this do happen, I was just never that girl haha. And please, dropping your cellphone at midnight instead of a glass slipper, HOW CUTE IS THAT?
Favorite lines:
"What can I get with no sugar, no carbs and is fat free?"
"Hmm.. water."
The Lizzie McGuire Movie (2003)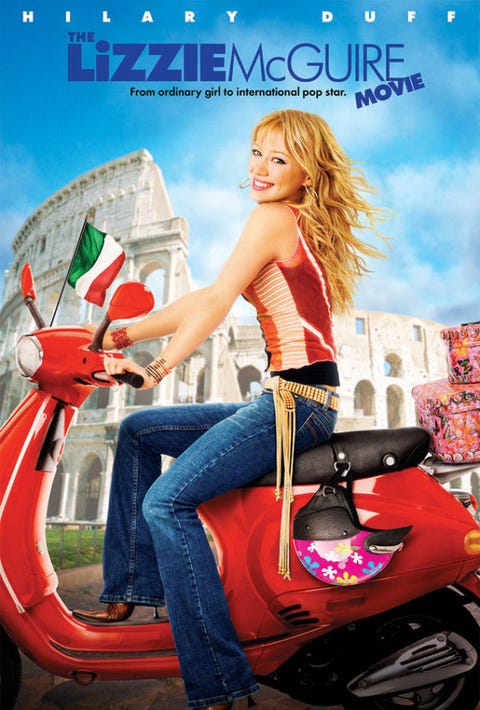 I can't see why anyone would dislike this movie? First off, it's Lizzie McGuire, everyone loves her. And it's a graduation trip to Rome! How amazing is that! I definitely didn't get a graduation trip until I got my bachelors and it wasn't Rome. Instead, I planned a trip to Rome in 2013, in search of my Paolo. Guess I can say, it was like waiting for rain in this drought, useless and disappointing.
And of course, the famous This Is What Dreams Are Made Of performance by Lizzie and Isabella/Paolo/herself, I still burst out singing the chorus from time to time. Even after 15 years. Trust me, it sticks with ya.
The Princess Diaries (2001)
I love every single moment of the movie. From Mia being a "freak" to finding out she's "Princess of Genovia" (read it in Julie Andrew's accent) and having the makeover and realizing she always has someone there for her and he saw her when she's invisible. And tell me you don't love the song Miracles Happen, it's in my "play these songs over and over and over again" Spotify playlist. Both part 1 and part 2 are on Netflix so get on the couch and binge watch it in one night!
High School Musical (2006)
Disney movies are just amazing <3
Every song sticks in your head. I love pretty much every song in this movie and Breaking Free is one of the few songs that I'll randomly start singing and people will give me weird looks. Five words for you – you cannot not watch this.
I was watching High School Musical 3: Senior Year and it brought me back to 10 years ago when I dragged my guy friends to the movie theater to watch this. Guess what? They actually enjoyed it. So go on, open Netflix and watch this now!
Freaky Friday (2003)
Being a teen, sometimes your mother gets on your nerves and it seems like it's an every day goal to drive her crazy. And vice versa. And that's why this movie is perfect. Mom and teenage daughter woke up one morning realizing they've switched bodies and this gives them the perfect opportunity to get to know each other well. And Lindsay Lohan back then.. oh <3
Raise Your Voice (2004)
Another Hilary Duff favorite! And the 2nd in the same year 😉
Terri (Hilary Duff), a small town girl who has a great love for music spent her summer in a performing arts school. A group of teenagers with a passion for music working hard to achieve their dreams. And come on, Someone's Watching Over Me and Jericho are both good songs, you know that.
The Devil Wears Prada (2006)
Outfits, outfits, outfits! Gosh, such a fashion-able movie. And I love it! Meryl Streep did such a fantastic job as Miranda Priestly and Anne Hathaway, looking fabulous as ever!
Best movie to watch while snuggled up in bed, under my blanket on a Friday night. There're so many favorable quotes from this movie and memorable scenes:
There's just so many but for now,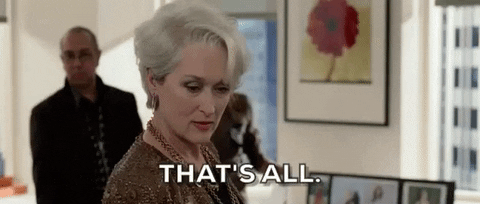 Confessions of a Shopaholic (2009)
Shopping can be fun, imagine coming home with the perfect purse after getting through so much shit at work for an entire month. Think of the purse as a reward. Now, if it's more than just a purse every other day to reward yourself, then that's not a good sign. And when you're like Rebecca Bloomwood who's fallen into a debt crisis because of her shopping habits, you're.. pretty much in deep shit.
The turning point of this movie is when she lands a job in a company called Successful Savings. Yea, ironic isn't it. I've had a credit card for a couple of years now and I completely understand that that flat, tiny card with a chip is dangerous. With just one swipe at the store or entering a couple of numbers and information online, I can get what I want without feeling the pinch of it. Until the numbers on my credit card statement gives me the shock of my life by the end of the month – that hasn't happened because I've been a careful spender (:
But if you're anything like Rebecca, hey, it's not too late to put those cards away!
Enchanted (2007)
Being a princess is every girl's dream isn't it but this modern day re-imagining fairy tale is just delightful! Giselle got sent to a world that has no happy ever after and that's where she found true love.
She's kind to everyone she meets and bursts out singing for love and joy. I couldn't help laughing at the scene where she made her dress out of Robert's curtains and when she started singing and dancing in the middle of Central Park. The relationship she's got with Morgan – Robert's daughter is so cute too. I'm glad Giselle finally found her Prince Charming and they lived happily ever after.
And guess what, there's a sequel in the works! Now I'm super excited!
Saving the best for the last, of course this is one of my top favs
Mean Girls (2004)
What more can I say? This is THE movie of 00's. Too many humorous scenes, lovable (and not so lovable) characters, Regina George and I guess this is what high school is like here in the US huh.
After more than a decade, we still love this movie and we're still quoting the movie. I can't wait for the day I'm finally in the August Wilson Theatre, watching this show live on Broadway, I'd be over the moon.
Any movies from my list that are your favorites too? What other movies are in your list?
Tags:
disney
,
movies
,
netflix