Four friends in London shows us the importance of love, friendship and just how beautiful the British accent is. The show, a reboot by Mindy Kaling seems like what I can relate to with a sprinkle of humor and here is why you should watch the show and enjoy it like I do.
The grass is always greener on the other side
Every single character in this show in beautiful. They all seem like they're living a fancy life style but every one of them have their own difficulties and challenges. Let's start with our four loyal friends and their significant other, who I would say is the main plot of the show:
Maya aka Missandei + Kash
There's a lot to say about Maya so let me keep it short, she's pretty messed up. She has adream career and friends whom she can count on. Though her love life is a little complicated but of course no one needs to know about the affair she's having with her boss. Kash, on the other hand, is an investment banker, wearing suits all day long and having a dad so proud of what he does. Sadly, that's not what he wants. Being an actor is what he wants.
Ainsley + Bryce
Pretty woman living in a Notting Hill townhouse in London – ugh that's where I'd love to live. Her life seems like a fairy tale until her wedding day. Since then her life changed until she met Bryce who is such an amazing guy! He's American too and you can clearly see he's in love with Ainsley. She hit the jackpot!
Craig + Zara
Oh Craig, that super chill friend whom I'll love to have. Like Kash, his coworker and best friend, he's an investment banker who's dating Zara who is so damn extra, you'll know what I mean when you watch the show. However, he's dealing with something he doesn't know how to tell Zara and that affected his relationship with her. But eventually, all is well. I can't help falling in love with them towards the end of the show, they are so cute!
Duffy + Gemma
Oh I don't even know what to say about Duffy because I just love him and Gemma. I just love them both!
Friends who are loyal are friends worth keeping
Maya flying all the way to London for Ainsley's wedding, which is like what I did for my best friend a few months ago.
Ainsley showing up to Craig's wedding looking.. not herself. That scene got me so emotional, was tearing up because her speech was wonderful
And
Game Night.
I love seeing this group of friends making time for each other, gathering together to play games. It reminds me of how my friends and I used to gather together when we were in university. Unfortunately, it's no longer like that for us and seeing them like this on tv just makes me envious.
Falling in love with your best friend
Like Duffy and Maya? Or like Craig and Zara?
This decision can either strengthen your friendship (and love) or it can easily break your friendship.
Every relationship starts off as both parties being friends. You really don't want to lose your best friend if it really doesn't work out and if you guys are compatible just as friends.
Arranged marriage and a traditional wedding
I have no idea that arranged marriage is still practiced and in London. Four Weddings and a Funeral has such a diverse cast and culture that just makes it fun to watch. Seeing how Kash and Fatima had to go on dates with chaperones and having to meet each other's parents after one date, it makes me feel like a 14 year old kid again.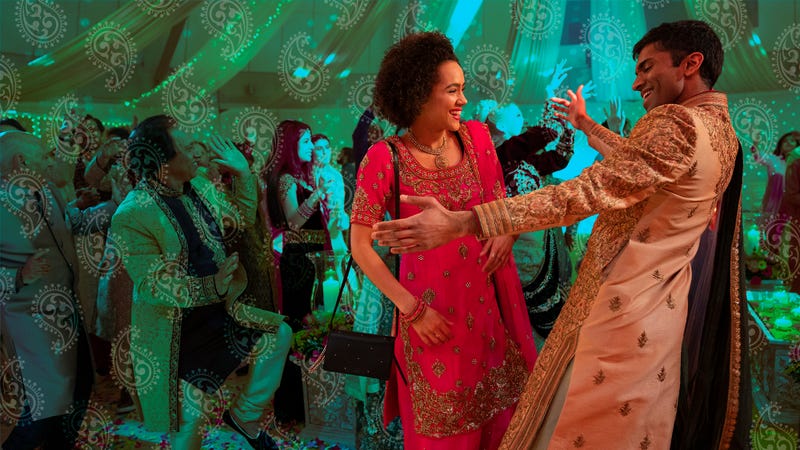 Moving on to the traditional wedding, oh it's lovely. A Muslim wedding with guests donning their traditional clothes, like Kash's brother, Asif said
"You can't go in dressed like that"
It's also a beautiful occasion where the bride and groom gets to see each other for the first time as husband and wife. This episode got me a little emotional as I have reached the age where my social media – Instagram and Twitter is filled with pictures with captions
"She said I do" or "I said YES"
And when I do attend these weddings (depending on whether I get invited or not of course), my friends are no longer the same people I first met, they'll be my friends who are now happily married.
Another thing I can relate to is that I'm Malaysian Chinese and we do preserve our Chinese traditions and culture and weddings are one of them. So seeing this episode just makes me smile as it feels familiar to me.
Who is 'the one' for you
You gotta know that right from the beginning in order to embark on this long term journey called marriage. And there is only two things that can happen if you don't get it figured out.
You risk getting jilted at the altar and be talk of the whole community.
or
You'll have to propose on national television and maybe get rejected
Well, at least that happened in Four Weddings and a Funeral.. I'm not going to say who so watch the show (or google for spoilers) to find out for yourself!
Last thing I'd like to add is
You have to admit the soundtrack is incredible!
So far we haven't heard anything about Season 2 and it doesn't seem like there'll be one. It's also very unfortunate that the series keeps being compared to the original movie version (not surprising) and obviously people have high expectations (again, I'm not surprised).
But I'm crossing my fingers for more!
Let me know if you have watched this show and whether you like it!
Tags:
four weddings and a funeral
,
friendship
,
hulu
,
love
,
loyalty
,
tv show