Six-time Grammy-nominated Sara Bareilles will have to compose another song to Close Up the Broadway musical, Waitress on January 2020 at Brook Atkinson Theater. By 2019, Sara Bareilles and Waitress has gained another big fan. People say third's time the charm but it's the fourth time that's a charm for me and this musical. And I'm so lucky to have seen Sara Bareilles, Katharine McPhee, and Jordin Sparks play Jenna in Waitress, the musical! Heck, I also can't stop singing Sugar, Butter, Flour every time I think about this musical.
Sara Bareilles, Katharine McPhee and Jordin Sparks play Jenna in Broadway's musical, Waitress
Waitress, The Musical
Jenna, a waitress, and an expert pie maker is stuck in a small town and in an abusive marriage. After finding out she's pregnant and an upcoming nearby pie contest, here is a chance for freedom and recognition for Jenna. With support from her customers, fellow coworkers (Becky and Dawn are sweethearts) and the new-in-town handsome doctor, Jenna is now faced with conflicting recipes to her happiness. But ultimately, she makes the final decision.
Instead of announcing to the audience to switch off their phones, Sara Bareilles composes and recorded a short song that plays before the show starts. It's really creative and cute, I laughed when I heard it for the first time. The stage for Waitress is really pretty and colorful too. Definitely not a show that I will fall asleep at because it's so bright. Lots of pink and blue, I just love it!
Jenna in Waitress
The cast is amazing. I am so thankful I got to watch Sara Bareilles, Katharine McPhee and Jordin Sparks perform live and I still cannot believe it! Then again, I watched this musical four times, there's really nothing to be surprised right now. I'm a little bummed I didn't get to watch the original Jenna (played by Jessie Mueller), watching her video of 'She Used To Be Mine', she's definitely amazing life.
Related Posts:
Sara Bareilles
I was over the moon when I found out Sara Bareilles was going to perform. It was a slow, lovely Saturday, I was bored and looking up Broadway shows. Suddenly I see her on Instagram, part of the cast of Waitress. I immediately bought the tickets rushed out the door to the Brooks Atkinson Theater. It was definitely the best decision I made and the best $100 I spent on that week. Mind you, I paid over $100 and was seated right at the top of the theater. Worth it.
Sara Bareilles' performance gave me goosebumps because she was so good. I never thought I'd hear her sing live, she composed the songs and lyrics for the whole show! Got to say this again, the ticket was worth every penny.
Katharine McPhee
She is a terrific singer! I found out she was going to perform right after I bought the tickets the first time. And of course, I wasn't crazy at all, I immediately bought tickets to see Katharine McPhee perform the week after watching it for the first time. I am so proud of her, being able to open for Waitress in West End, London, and perform for the last couple of weeks on Broadway before the show closes.
Watch Katharine McPhee's performance of 'She Used To Be Mine' here
Jordin Sparks
I cannot believe I got to hear Jordin Sparks sing live. Another American Idol alumni that I watched live! She has such a beautiful voice but I didn't really dig her as Jenna. Jordin Spark's performance was my fourth time at the Brook Atkinson Theater, at that point, I was there to listen to the singer playing Jenna sing and not so much to watch the show. Nevertheless, Jordin Sparks sounds amazing live and if she's on Broadway again, I'd definitely watch her again!
Watch Jordin Sparks' performance of 'She Used To Be Mine' here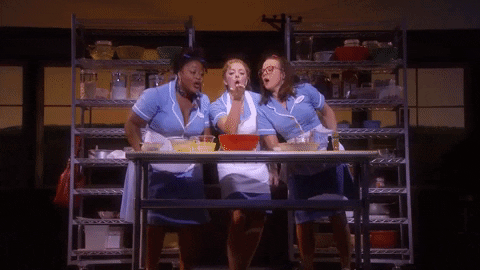 Waitress, The Soundtrack
The songs definitely play a big part when it comes to whether I like a musical or not. I'm not surprised I fell in love with the songs and I'm so glad to say that I do not have a favorite song because I love them all! Though each singer gets their moment to shine with 'She Used To Be Mine', Sara Bareilles, Katharine McPhee, and Jordin Sparks nailed the song in their own different way!
The most recent performance by Luke Islam (AGT 2019) blew my mind too. It earned him the Golden Buzzer (spoiler alert!) so I guess I wasn't the only one that got my mind blown away!
'Opening Up' is definitely the most catchy one, it's the first song that opens up the show (no pun intended), the song just got stuck in my head ever since.
So,
the storyline is lovely, the cast is amazing and the Jenna's that I watched perform are amazing, getting those tickets a year back wasn't a 'Bad Idea' I guess. I must say, 'I Didn't Plan It', it just happened one day when I was bored and was looking up what Broadway show to watch. And it's definitely a show worth watching!
Oh yes, I forgot to mention that they do sell "pies" during intermission, I bought the cookies and cream pie the past few times and it's my favorite. It's hard to explain why. I guess 'It Only Takes A Taste' to know.
Okay, enough with the puns.
Puns: You're 'Never Ever Getting Rid Of Me'!
I apologize, I'm gonna stop, for real.
So I'm going on and on about the different Jenna's but I need to say this too, the rest of the Waitress cast is really good too. And I'm talking about little Lulu too, she's adorable! My heart melts every time she shows up on stage.
If you're not updated, this amazing Broadway musical is closing in January 2020 and the only way we can watch it is to fly to London. I'm totally up for it if you are! Sara Bareilles will be performing in West End in early 2020, start looking at tickets because she's definitely worth your afternoon!
Waitress, the Musical: Sara Bareilles, Katharine McPhee, Jordin Sparks
Have you watched Waitress, whether on Broadway or West End? Please let me know!
Tags:
broadway
,
new york city